This COVID-19 pandemic and the associated emotional and financial impact has been unprecedented.
We are all (individuals, businesses, governments) reacting and adapting on a seemingly day-to-day basis. At Brown Financial Security we have been talking with clients and community members like you about what is happening with their financial plans.
Here are the 2 Simple Secrets (themes) that I have taken away from the very recent flood of opinions and analysis on investing during COVID-19:
Take the emotion out of your investing
Your 'gut reaction' is not likely your best guide for making long-term financial decisions, a good plan is still a good plan, stay the course
You don't need more stress in your life right now, you've got more important things to focus on like your health, your family and your community
Leave your quarterly statement in the envelope and don't worry about the headlines, do a review after the quarantines and self-isolations are over
If you want to talk, call a licensed advisor for an objective discussion
There will be a recovery, there always is – markets are amazingly resilient
Believe me, no one knows what will happen in the investment markets on a short-term basis (e.g. days, months), but history gives overwhelming evidence that well-managed portfolios deliver outstanding results over the long-term – particularly after crisis- related downturns
Market corrections are a natural part of the investment cycle, they 'let the air out' of investment bubbles and create opportunities
This is not the right time to sell, no one's investment plan should include "Sell Low", some of the all-time best days on major equity markets follow very closely to the all-time worst days – 'Time in the market' is more important than 'Timing the market'.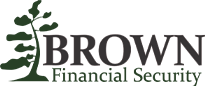 o: 905 690 5035
e: info@brownfinancial.com
brownfinancial.com
Work Hard. Retire Well. Leave a Legacy.

This article was published in Neighbourhood Magazine. The original can be found HERE.